BITBET NEWS
The hottest - and coldest - hockey bets on the NHL ice this season
November 19, 2018
In the realm of sports betting, hockey is often the forgotten sport come November. Football and basketball chew up the headlines, but there is excellent bitcoin gambling value in the NHL ice every ...
Complete Article:
Read More
Inside the betting odds for the biggest NFL Week 2 matchups
September 13, 2018
The NFL Week 2 odds are on the board after a wild opening weekend of pro football free bitcoin betting. If you're planning your watching and wagering schedule for Sunday, here's a look ...
Complete Article:
Read More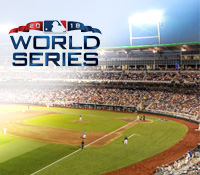 With two months left, who's the best bet to win the World Series?
August 8, 2018
The MLB trade deadline has come and gone, with plenty of players sporting new jerseys to begin August. With two months left to go in the 2018 regular season, the World Series futures are starting t...
Complete Article:
Read More
World Series wagers worth a look during the MLB All-Star break
July 12, 2018
The MLB All-Star Break is a check-in for major league clubs: You're either in or you're out. Of course, we're talking about the World Series race. And once MLB clubs return from ...
Complete Article:
Read More
Page 1 from 9